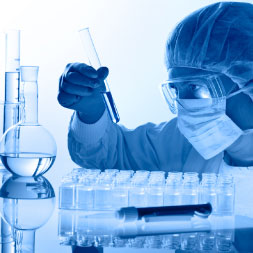 Wishlist
Fundamentals of General Science
This course will begin by discussing the scientific method of observation and the inferences that can be drawn from these observations. You will then analyze experiments using soil, mold, sunlight, and fertilizer to better understand. This will give you a much stronger understanding of how the scientific method works. This course will also discuss hypothesis testing, variables, and experimental design.

You will then study important safety rules and regulations for working in laboratories. You will learn the proper way to heat a liquid, mix substances, and use the Bunsen burner. You will then learn that chemicals may give off fumes and vapors, particularly when they are heated, so it is important not to directly inhale these fumes as they may be poisonous or make you feel light-headed or sick.

Upon completing this course, you will be able to effectively work within a science laboratory and analyse results from an experiment. You will have gained a good knowledge of scientific experiments, including how to design experiments, create hypothesis testing, repeat experiments, and reach a conclusion. You will also have learned about the Piltdown Man hoax. So, check out the course today and start learning the core principles of the scientific method in no time at all!
[[comments.length]] Comments
[[(comment.user) ? comment.user.first_name+' '+comment.user.last_name : comment.name+'(anonymous)']]
[[ formatDate(comment.created_at) | date:'medium']]
[[ comment.text ]]
[[(comment.user) ? comment.user.first_name+' '+comment.user.last_name : comment.name+'(anonymous)']]
[[ formatDate(comment.created_at) | date:'medium']]
[[ comment.text ]]